Pet Portraits Case Studies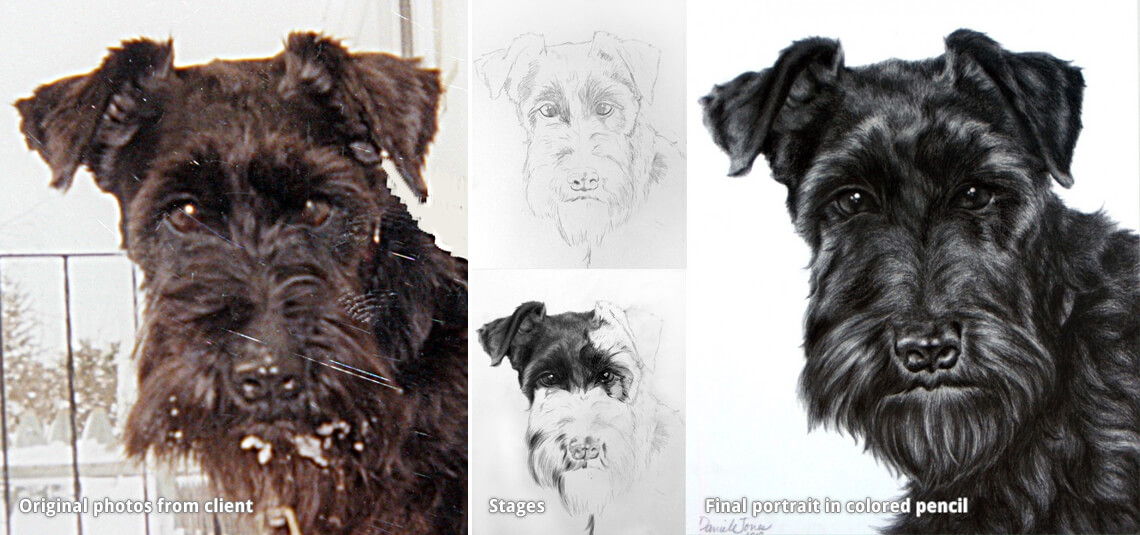 Pet Portrait Drawing of Shadow
Name
Shadow
Breed
Black Miniature Schnauzer
Medium
Charcoal
Size
8 x 10
From
Albany, New York
Shadow was rescued from a shelter when she was 10 years old and spend seven more years with her new family where she was their best friend.
They were concerned that she might not look black enough in a drawing because the had a portrait done previously that was not successful. So they wanted to make sure that Shadow would come out looking like a black miniature schnauzer.
Their other concern was that the photo above left was the only photo they had of her and, as you can see it's blurry and lacking in sharp detail.
I was confident that I could make Shadow look black and that their photo would be fine. I added details from my own knowledge of pretty doggie eyes and wet noses! As you can see below, Shadow's family was very happy with her portrait. And I was so happy to be able to give them the portrait that they wanted.
Yay!!! You did it!! And yes, we are VERY HAPPY with it! She came out absolutely gorgeous!! If it was any more perfect it would have been the actual photograph. But it's soooo much better than the photo! I was so worried that we didn't have a good enough picture of Shadow for you to work from, but you somehow you were able to capture her perfectly. And it's funny you said that about her curly hair, because here is what one of my friends at work said: "Wow, it looks amazing! It looks like you can reach over and pet her!" And everyone I've shown it to has the same reaction…they love it and are amazed at the detail! We can't thank you enough for bringing her picture to life!

My husband absolutely loves the portrait! I was in the other room when he came home from work last night, and all I heard was "WOW!" and then another "WOW!" L.O.L. !!!! He couldn't agree more that you've done a really beautiful job with Shadow. I'll probably tell you this a hundred times, but I hope you know it is sincere, when I say THANK YOU!!!
– Carol