Pet Portraits Case Studies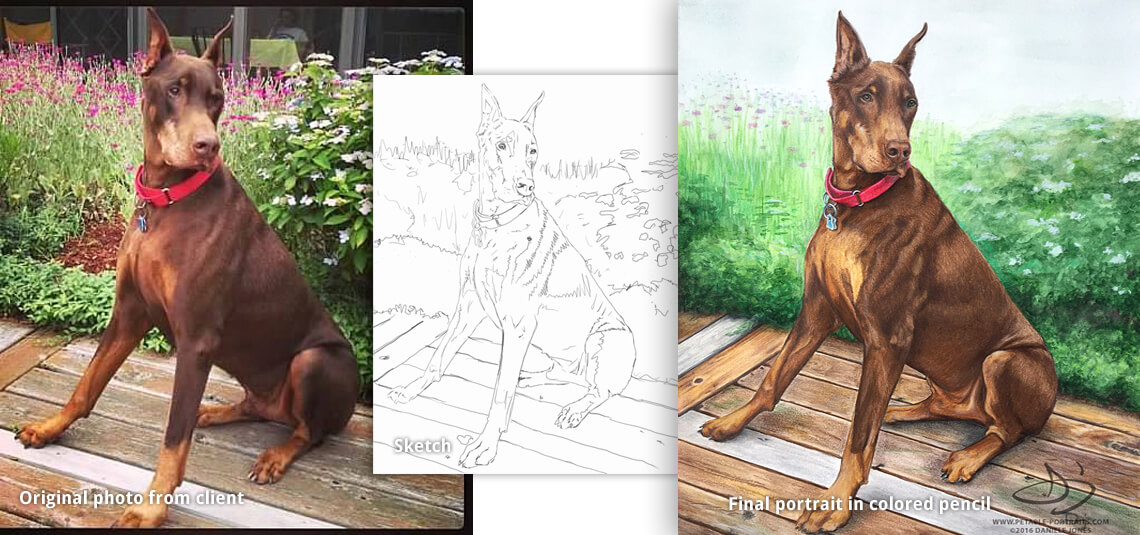 Pet Portrait Drawing of Kane
Name
Kane
Breed
Doberman Pinscher
Medium
Colored Pencil and Watercolor
Size
11 x 14
From
Richmond, Virginia
This stately gent was a treat to draw, but he had a couple of challenges that needed to be met to make a great portrait. The right eye in the photo was very blurry and for awhile I was not sure if it was a normal eye. It was, so I corrected that in the portrait. And his paw was cut off so for a better composition in the portrait I drew that in as well.
I loved drawing the textured wood – such a fun challenge. To make Kane pop off the page, I simplified the background and flowers.
Unfortunately, Kane passed while I was drawing his portrait. I hope it brought comfort to his dog mom, it was a very thoughtful gift from a good friend of hers.
My friends arranged for you to paint my doberman, Kane, after he passed away. I know that it was over a year ago, but I wanted to send a quick email to thank you. That was one of the most amazing and meaningful gifts I've ever received, and your work is magnificent. You captured his personality and his soulful eyes so wonderfully - I can't express how much I love the painting. Thank you for doing what you do. I will likely be in touch soon as I would love to have you do a pet portrait for my sister.
– Amanda